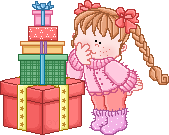 glitter-graphics.com
So tell me who doesn't like receiving gifts/presents? Anyone? No one...Giving is a lot of fun and so is receiving isn't it? I know some of you have entered blog contests giveaways and were hoping to win (I'm guilty). Here, everyone is a winner and everyone will receive something. If you would like to join in on the Gifts/Presents Exchange Corner all you have to do is:
1.) Leave a comment on this post, please include your email address so that I can get in touch with you or you can always email your email address to me. My email address by the way is ChinkygirLMeL@hotmail.com
2.) Also, to help out the fellow blogger who has been assigned to send you a present please let me know what your favorite color is.
3.) Lastly please help me out on this, do you guys want this to be a secret Santa project or would you guys like to know who got who? If you would like to know who got who I'll be posting it all on my blog by the 26th of November.
To everyone who is joining I'll be sending each of you an email. I'll also be asking for your mailing address. And by the 26th I'll email each of you the mailing address of the person you are to send a gift to as well as a link to their blog that way you have an idea of that persons interests.. Everyone must send their gifts by the 30th of November 2009 in this way we would all receive our presents at just about the same time or hopefully a little near Christmas.
Deadline for joining this project is by November 25, 2009.
P.S. gifts do not exactly have to be really big, they could be keychains or small trinkets, they don't have to be super expensive guys, let's be creative. You can also post on your blogs what you got too. =)
COME ON PEOPLE, THE MORE THE MERRIER. Let's enjoy giving and receiving. =)